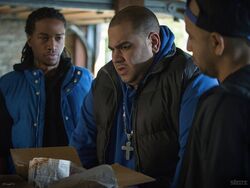 Anibal Santalises is the former leader of the Hermanos Tainos gang, he is portrayed by Dominic Colón.
Biography
Edit
Anibal is seen meeting with Tommy Egan and Julio Romano after a hit was made in a drug operation, but when Liliana is almost assassinated by Pink Sneakers but Liliana kills her boyfriend instead, Tommy and Shawn cut up the body and sends some of it to Anibal along with Carlos Ruiz and Rolla.
Another drug stick up is made but gets caught out by Tommy and Julio, Anibal is accused but almost gets killed by Ghost, but Anibal negotiates and tells Ghost that he would rather send his best hitters if it was him.
Moments later Anibal is sliced in the neck to death by Pink Sneakers.
Community content is available under
CC-BY-SA
unless otherwise noted.